Macht mit – Weltweit
Zusammen mit Kati, die den Earth Hug schon seit mehreren Jahren, am 12. Dezember (mit einem Netzwerk aus Freunden und Freiwilligen weltweit) organisiert und Thomas, der jährlich einen Freehug am 8. Dezember in Österreich veranstaltet, deren Message es ist, dass mensch sich die wichtigsten Dinge im Leben nicht kaufen kann (eine Umarmung, Zeit mit denen zu verbringen die Du liebst, …etc.) haben wir uns gedacht: Warum kombinieren wir nicht die beiden Events und machen es RICHTIG GROß. Daher freut es uns besonders, dass wir dieses Jahr einen WELTWEITEN AUFRUF für den 12. Dezember um 12h Ortszeit starten, sinngemäß mit dem Inhalt:
BEGINNEN 

wir unsere Erde zu schützen
HÖREN WIR AUF 

alles zu kaufen
UMARMEN 

wir uns und teilen
In dieser Woche vom 12. Dezember hat auch die Klimakonferenz in Lima ihr Ende gefunden. Vermutlich wieder einmal mit einem wenig ambitionierten Maßnahmenkatalog, um eines der gefährlichsten Probleme der Menschheit zu lösen – den Klimawandel. Daher möchten wir die Menschen auf der Straße, in Kaffees, Restaurants, wo auch immer wir sie an diesem Tag treffen, darauf aufmerksam machen, dass die ERDE unsere Heimat ist, die wir BESCHÜTZEN müssen, vor der Gier und der Profitmaximierung der Industrie.
Was kann ich tun? Registriert Euch doch bitte bei dieser Facebook Einladung und fügt eure Stadt zu unserer Freiwilligen Datenbank hinzu.
Am 12.Dezember postet bitte Bilder/Videos von Euren Aktionen auf Facebook und Twitter unter den Hashtags #endecocide und #earthhug
Falls ihr an diesem Tag  Flyer verteilen wollt:  Ladet und druckt dieses PDF
Interested?
think about it.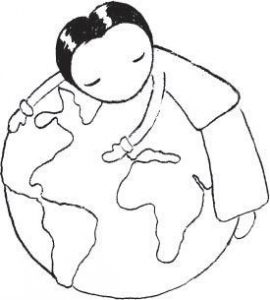 who has supported you all your life without asking for anything in return?
fresh air, clear water, food, stability and unconditional love…
the earth provides. the earth cares. the earth loves!
it's about time we love her back again…
every day – every moment…
and with a huge collective earth hug right around the planet!
when? 12.12.2014 at 12 o'clock (high noon) in your timezone
where? right where you are!
how? it's easy! it's free! it's fun! (see the video at the bottom)
throw yourself on the ground and hug the earth!
run to a tree and hug the earth!
put your arms around each other and hug the earth!
hug the earth ♥ share the love
Freehugs
Du hast keine Ahnung was ein Freehug ist? Einfach das Video unterhalb anschauen und die Inspiration geniessen