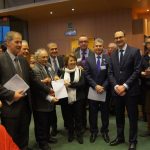 In January 2014 End Ecocide together with a group of more than one hundred NGOs started a campaign to ask the UN General Secretary and the European Union to focus on the crimes against Health and the Environment, including  Ecocide.
In detail the charter asks to:
1. Invite other interested organisations to support the request to create a European Criminal Court of the Environment and Health on the basis of the principles of effective, proportionate and dissuasive sanctions elaborated by the EU;
2. Invite interested organisations and global civil society at large to support the request to create an International Environmental Criminal Court of the Environment and Health by developing the current competencies of the International Criminal Court (ICC) through legal procedures provided for in the Treaty (revision and amendments) and by including environmental catastrophe as a new specific crime;
3. Consequently, ask the Secretary-General of the UN to take all necessary steps in order to:
Catalogue Planet Earth's environmental emergencies with particular attention to the protection of health and related scientific and technological issues, as well as all cultural and anthropological aspects;
Set in train the necessary actions for the creation of an International Criminal Court of the Environment and Health, and effective sanctions for environmental infringements which have caused damage to people and ecosystems;
4. Invite interested organisations and civil society to support an initiative calling for recognition by the UN and the States of the "polluter pays" principle as a juridical principle of universal value backed by sanctions, to restore the ecological damage, to introduce real juridical and jurisdictional protection for resources in a spirit of effective multilateralism and solidarity;
5. Decide, in any case, to organise themselves in a common platform in order to pursue and further specify this joint objective.
The full text of the Charter of Brussels can be found here:

 Charter of Brussels
And beneath is the list of supporting NGOs: