This page tells you how you can make sure you can participate on our webinars hosted on our video conf server, which is  a nifty little shiny piece of open source software from the Apache foundation.
Normally there is not much you need to do besides clicking on the link that has been sent via email to all members of the end ecocide movement.
To be sure you can participate its a good idea to check a few things in advance however.
Check that Flash is installed
Click on this link: https://www.adobe.com/software/flash/about/
and check that it reports that flash is installed and the flash version is at least 11 or higher.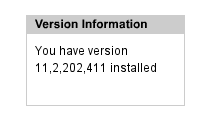 After checking close that window and you are back here for step 2
Check your network performance
Click on this link: http://eitzen.at:5080/openmeetings/swf?3&swf=networktesting.swf10.swf
The test will be started automatically and will show your internet connectivity.
Ping, Port should be green
Jitter times should NOT be above 250ms
Download/Upload bandwidth should not be below 0.2 Mb/s
Voila your set!
In case you have bad values or are unsure, return to the network test window and click on the "copy to clipboard" text and paste it into an email to et@endecocide.eu
At least I can try to help 😉