International Tribunal against Monsanto - October 14-16 The Hague
End Ecocide on Earth is part of the committee organising the International Monsanto Tribunal that will take place in The Hague (Netherlands) between the 14 and 16 October 2016. The Monsanto Tribunal represents the international mobilisation of civil society to judge Monsanto for its violations of human rights, crimes against humanity and ecocide. The tribunal was initiated among others by Vandana Shiva and is supported by such outstanding personalities as Nnimmo Bassey, Vivienne Westwood, Renate Künast, Richard Falk and Nicolas Hulot.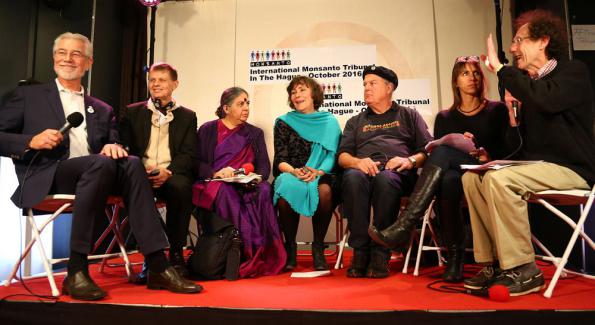 For the 'formal tribunal', five internationally renowned judges will listen to the testimonials of thirty witnesses and experts from all continents. The judges will deliver a consultative opinion in December that will follow the International Court of Justice's procedures.
All of this takes a lot of money to support, so please chip in a few quid if you can via crowdfunding.
Many have asked whether Bayer's proposed buyout of Monsanto affects the Tribunal. It doesn't, as this endeavour targets the entire agro-industrial system. Beyond Monsanto, the objective is for the trial to provide a precedent denouncing the behaviour of multinationals and corporations that ignore the negative impact their corporate decisions have on human health and the environment, and most importantly our food system! A People's Assembly will be taking place simultaneously to the Tribunal, to bring social movements together and collectively plan the future we want. The programmes are available here.
Our hope is to establish a long-term connection between victims and experts, and to have prestigious judges analyse whether Monsanto violated human rights to health, environment, food and scientific freedom and committed the crime of ecocide.
For End Ecocide on Earth, this Tribunal is a unique opportunity to realise the aspiration that ecocide becomes one of many very real crimes in international law and we're proud to be part of the organising committee!

You can also show your support for the Tribunal as individual or organisation.
You can still register to participate! If you'd like to join our End Ecocide team meeting on Saturday evening, please contact robert@endecocide.eu
Hope to see many of you in the Hague!
Your End Ecocide on Earth team