From March 20th to 25th, we call on the European institutions to recognize ecocide in European law in order to prosecute the most serious crimes against nature that are still not recognized.
If you are from a non-EU country click HERE (page to the international action week).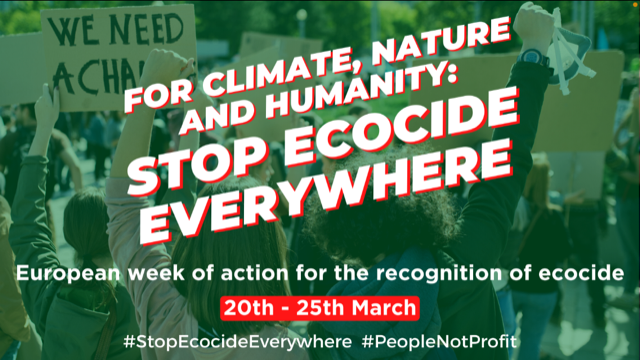 Why now?
Last December, the European Commission published a proposal for the revision of the Environmental Crime Directive. This proposal is a good step towards protecting the environment through criminal law, but it still does not recognise, define and therefore condemn the most serious environmental crimes: ecocide. As the European Union is now revising it, this is a unique opportunity to demand the recognition of ecocide in European law, and to expose the corporate impunity and lack of responsibility (political, financial and moral) currently existing around mass destruction to nature.
Join us!
Together, we want to show that the recognition of ecocide is an increasingly popular and necessary demand to protect the future of life on Earth. Join the mobilisation and let's put pressure on the European Union to recognize ecocide in European law!
EUROPEAN DAY OF ACTION – Sunday 20th of March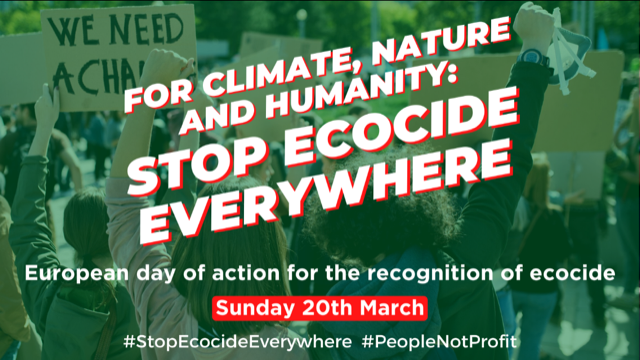 For more info, visit our Facebook event: https://fb.me/e/1czLHrfxc
 BELGIUM – March in Brussels: 12H30, start in Place du Luxembourg. More info: https://fb.me/e/57Uk3lIC8

NETHERLANDS – In-person event in Amsterdam 'Stop Ecocide One on One', 13H30 – 17H, in Poesie & Kater (Polderweg 648)

 FRANCE – Conference in Paris, 15H in La Base (31 rue Bichat). Bring your placards and banners for a group photo on Place de la République afterwards.

 SPAIN – Sit-in in Madrid, 18H, in front of the Representation of the European Commission (Plaza de la Castellana, 46). Bring your placards and banners: https://fb.me/e/n4w2c9Rt6

 Germany – in BREMEN: Vigil with info stall, 11H – 16H on Marktplatz vor der Bürgerschaft. Organised by Stop Ecocide Deutschland.

*MONDAY MARCH 21st*
 Iceland- in REYKJAVIK: Conference 12H – 13H30 in the museum Kjarvalsstaðir. Organised by the Þingflokkur Pírata (Pirate Party) featuring a parliamentarian, a natural scientist, an international jurist and a leader of an environmental NGO. https://fb.me/e/23a7zquF9

*FRIDAY MARCH 25th*

 Germany – in BERLIN: Demonstration 11H, Robert-Koch-Platz, as part of the global climate strike of Fridays for Future 'Globaler Klimastreik in Berlin – Stop Ecocide Deutschland geht auf die Straße!' Bring your placards and banners. https://fb.me/e/2eby5Pyeq

 Italy – in ROME: Sit-in 15H, by Piazza Venezia (Church of San Marco), followed by an event hosted by Volt Europa on the 65th anniversary of the Treaty of Rome. Organised by Stop Ecocidio Italia. Bring your placards and banners!
We encourage everyone to organise actions in their areas (see mobilisation toolkit.)

GLOBAL WEEK OF ACTION – Monday 21st to Friday 25th of March
We invite you to connect the theme of ecocide with international days and other key topics that are part of the wider climate justice movement (see below). These can be digital actions or physical actions, and the goal is to mobilise people in your country around the recognition of ecocide, and the protection of our precious ecosystems and communities.
MARCH 21st ECOCIDE & FORESTS / INTERNATIONAL DAY OF FORESTS 
MARCH 22nd ECOCIDE & WATER / WORLD WATER DAY
MARCH 23rd ECOCIDE & ENVIRONMENTAL DEFENDERS
MARCH 24th SYMBOLIC ACTION IN FRONT OF THE EUROPEAN COUNCIL (BRUSSELS)
MARCH 25th FRIDAYS FOR FUTURE GLOBAL STRIKE / ECOCIDE & EXTRACTIVE INDUSTRIES
FIVE WAYS TO GET INVOLVED

1. Support the mobilisation by hosting public events (online or in the streets). Visit our mobilisation toolkit: https://bit.ly/3HOE84y
2. Join the Telegram channel: https://t.me/+NZseO63h2hViYTRk
3. Share the Facebook event: https://fb.me/e/18yZOuF1o

4. Post about the mobilisation on social media. Graphics can be found here.
For text in other languages, please visit the mobilisation toolkit.

Suggested post for social media:

On 20th March 2022, let's join forces to ask the European Union to #StopEcocideEverywhere. For climate, nature and humanity, we must put an end to these crimes that destroy the planet. Join the mobilisation in Brussels and everywhere in Europe!

https://fb.me/e/1czLHrfxc  

5. Join the digital campaign to raise awareness on ecocide:

Take a picture with a sign #StopEcocideEverywhere and share your story about the protection of your forest, river and community – or an ecosystem you know is under threat from ecocide… and invite people to join the mobilisation!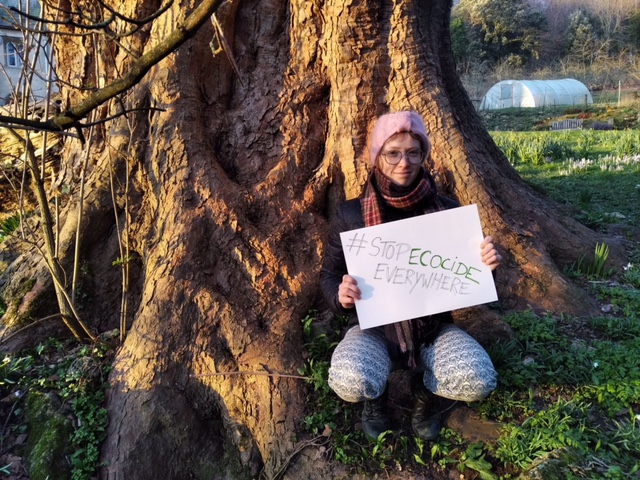 Stroud, United Kingdom
FURTHER RESOURCES:

WATCH
Webinar on the recognition of ecocide in the European Environmental Crime Directive

,




with Jojo Mehta (

Co-Founder & Executive Director, Stop Ecocide International

), Harriet Mackaill-Hill (

EU Climate Governance and Human Rights Policy Coordinator, Climate Action Network Europe

) and Marie Toussaint (

French environmental activist, jurist in international environmental law, co-founder of the association Notre Affaire à Tous, elected MEP for the Greens/EFA, and founder of the International Parliamentary Alliance for the recognition of ecocide

).

Criminalizing Ecocide

– Video by Grounded (

trailer here

)
READ:
Changing the ground rules to protect what we love: the Earth – on

Ecosia blog




Why ecocide should be an international crime? By Seema Joshi, Director of Campaigns,

Global Witness



VISIT:

The

legal definition of ecocide

, drafted by an independent expert panel

The

letter

from 54 NGOs and 32 Member of the European Parliament asking the European Commission to recognize all environmental crime and the crime of ecocide
CONTACT: