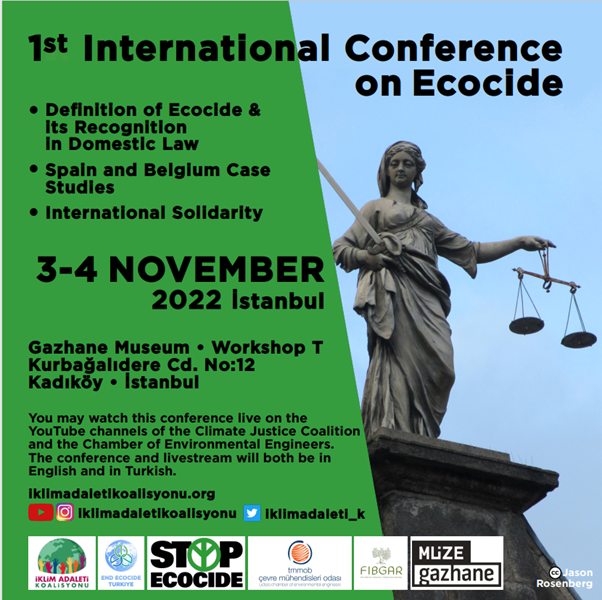 1st INTERNATIONAL CONFERENCE ON ECOCIDE • 3-4 November 2022
Watch it live!
03.11.2022 10:00
https://youtu.be/lKsN-IIb0vk
04.11.2022 10:00
https://youtu.be/MTTcLZgUaCs
We are organizing an international conference on ecocide which will be held for the
first time in Türkiye, at the Gazhane Museum in Istanbul on 3-4 November 2022, in
cooperation with the Climate Justice Coalition – Ecocide Working Group, UCTEA
Chamber of Environmental Engineers and EndEcocide Türkiye.
Our aim is to discuss the recognition of ecocide as a crime in Turkish domestic law,
to review current lawsuits and nature advocacy activities, and the scope and targets
of struggles that have already begun, thus building bridges between the climate
justice and ecocide movements in the world and in Türkiye.
During the conference, we hope that the participants will
· be inspired by each other to find solutions,
· share their knowledge,
· evaluate methods of struggle and develop new ones,
· implement concrete steps decided on at the end of the conference.
We aim to help participants to establish new national/international cooperation
networks that will foster change.
In the 1st International Conference on Ecocide, we are determined to create strong
solidarity and engender collective thinking by achieving individual and institutional
participation from all segments of society, together with defenders of nature and of
life who are fighting on the frontline throughout the world and in Türkiye.
The conference will be streamed live on the YouTube channels of the Climate
Justice Coalition and of the Chamber of Environmental Engineers. Simultaneous
translations will be available so that the conference can be followed live around the
world. Media outlets and social media channels are and will be invited to observe.
Individuals of all ages, students, academics, activists, non-governmental
organizations, professional associations, artists, members of parliament, groups
from political parties, are invited to our conferences without any exclusion.
We think that we should accelerate international cooperation on the subject of
ecocide and ecocide law. We aim to address our common concerns and produce
solutions. We will be honoured to see you and/or your institution join us for an
intersectional experience that we hope will yield fruitful results.
1st International Conference on Ecocide | Istanbul • 3-4 November 2022
November 3, 2022
10:00 – 10:15 Welcome speech
İlksen Dinçer Baş – EndEcocide Türkiye
Ahmet Kahraman – Chair of UCTEA (Chamber of Environmental
Engineers)
10:15 – 11:15 The legal definition of ecocide, global developments and next steps
Jojo Mehta – Chair of StopEcocide Foundation | Convenor of the
Expert Panel for the Legal Definition of Ecocide
11:15 – 11:30 Tea-Coffee Break
11:30 – 12:30 Case Study: The granting of legal personhood to El Mar Menor
Saltwater Lagoon by the Spanish Parliament
Rodrigo Lledó – Lawyer | Panelist for Legal Definition
Maite Mompó – StopEcocide Spain
12:30 – 13:30 Lunch
13:30 – 14:30 The recognition of the crime of ecocide in Belgium: How our country could make environmental protection history ?
Patricia Willocq – StopEcocide Belgium
14:30 – 14:45 Tea-Coffee Break
14:45 – 15:45 Environmental activism in Türkiye for Climate Justice and the
Right to Live in a Healthy Environment: Studies on Ecocide – the
link between ecocide and crimes against humanity
İsmail Hakkı Atal – Lawyer & Arif Ali Cangi – Lawyer
15:45 – 16:00 Tea-Coffee Break
16:00 – 17:00 Online International Forum on "Solidarity and Cooperation"
EndEcocide and StopEcocide Team, participants from Türkiye in
the offline conference at Gazhane Museum
1st International Conference on Ecocide | Istanbul • 3-4 November 2022
November 4, 2022
10:00 – 12:30 Presentations on nature advocacy of Major NGO movements in Türkiye and current court cases.
12:30 – 13:30 Lunch
13:30 – 17:00 Meeting of lawyers and environmental activists: How can ecocide could be incorporated into the Penal Code?
Moderator: Hülya Yıldırım – Lawyer UCTEA (Chamber of
Environmental Engineers)
17:00 – 17:30 A Statement Paper to be signed by participants, including a call
for signing the petition for the recognition of ecocide in the
European Crime Directive
18:00 Closing