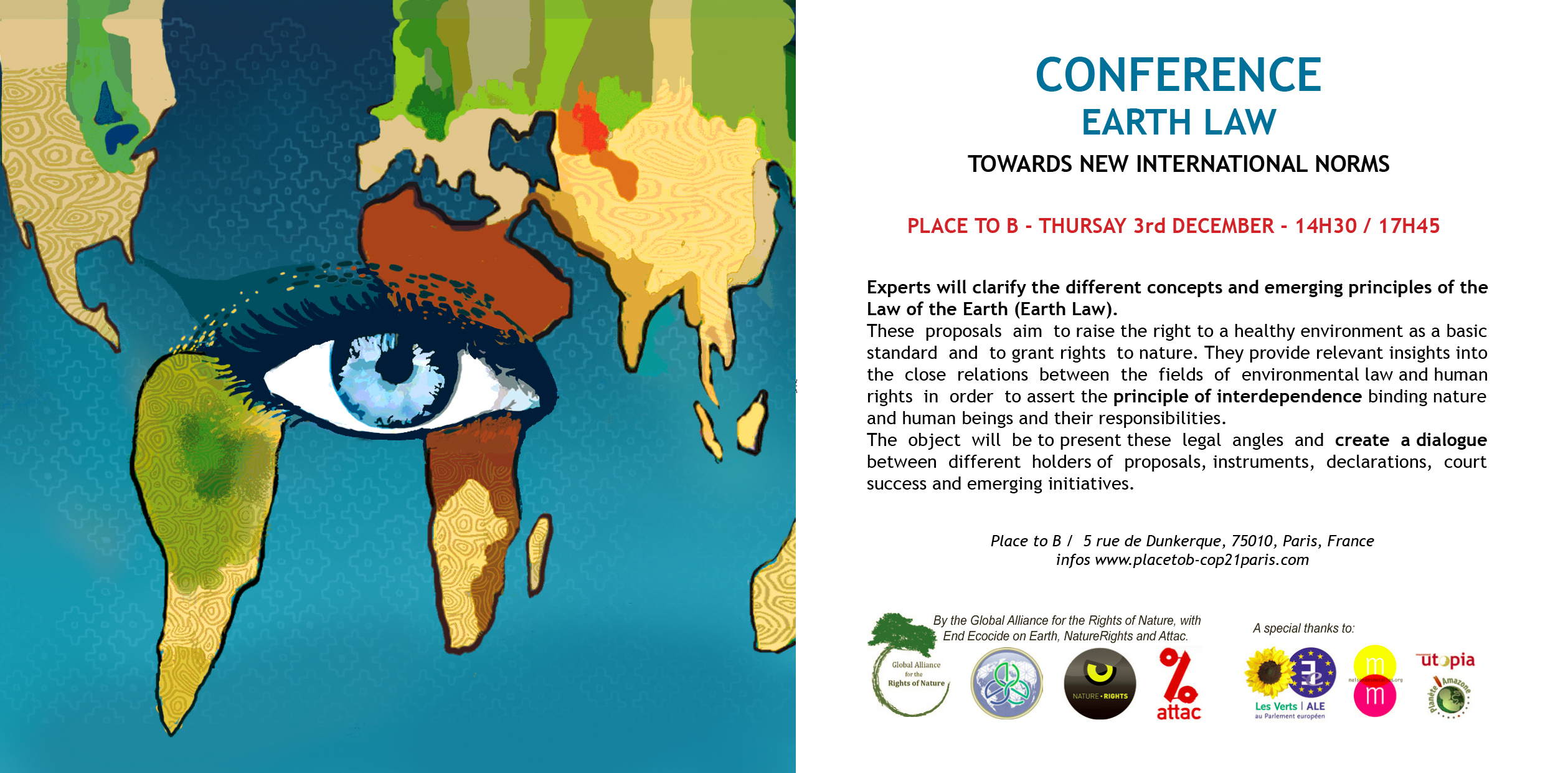 EARTH LAW : TOWARDS NEW INTERNATIONAL NORMS
Experts will clarify the different concepts and emerging principles of the Law of the Earth (Earth Law). These proposals aim to raise the right to a healthy environment as a basic standard and to grant rights to nature. They provide relevant insights into the close relations between the fields of environmental law and human rights in order to assert the principle of interdependence binding nature and human beings and their responsibilities. The object will be to present these legal angles and create a dialogue between different holders ofproposals, instruments, declarations, court success and emerging initiatives.
The complementarity of these approaches have the potential, in their interpretation and implementation, of ending unlimited exploitation of natural resources which jeopardizes all future on earth.
Finally, these initiatives contribute to an evolution of consciousness and human behavior by providing a transition to systems of governance that are guided by the general interest of the Living on Earth, recognizing that human is at the heart of a system of life beyond him, and that we must respect the laws, processes and boundaries in order to maintain thebalance of the system.
Programme (EN/ FR)
Topic
Representative
14h30 Introduction
Natalia Greene (GARN)  Samanta Novella (NatureRights)

Key note speech / Ouverture
Vandana Shiva (Navdanya)
Concepts
Facilitation / Modération
Genevieve Azam (Attac)
Sumak Kawsay / Mother Earth / Terre Mère
Patricia Gualinga Sarayeku

Tom Goldtooth (Indigenous Environmental Network)

Buen Vivir
Alberto Acosta (Former président of Constitutional Assembly in Ecuador / Ancien Président

Assemblée Constitutionnelle Equateur)

Laudato Si
Roderigo Péret
Discussion
Economic model and Ecological governance / Modèles Economiques / Gouvernance écologique
Norms
Facilitation / Modération
Shannon Biggs (Movement Rights; Global Exchange)
Duty of care / Principe d'Anticipation
Mireille Delmas Marty (Prof. au Collège de France – Chaire d'Etudes juridiques comparatives et internationalisation du droit)
The Law of the Commons / Droit sur les Communs
Koffi Dogbevi (Juriste)
Rights of Nature / Droits de la Nature
Osprey Orielle Lake (WeCan)
Rights of Future Generations / Droits des Générations Futures
Emilie Gaillard (Professeur de Droit)
Discussion
Relationship with nature and climate change / Changement climatique et relations avec la nature
Instruments
Facilitation / Modération
Marie Toussaint (Juriste)
Climate Justice Justice Climatique
Roger Cox (URGENDA, Avocat, auteur)
Universal Declaration for the Rights of Mother Earth / Déclaration Universelle des Droits de la Mère Terre
Cormac Cullinan (Auteur Wild law)
Universal Charter of the Environment / Charte internationale de l'environnement
Yann Aguila (Avocat à la Cour, Club des Juristes)
Declaration of the Rights of Mankind / Droits de l'humanité
Corinne Lepage (Avocat, ancien ministre de l'environnement)
Crimes against Health as crimes against humanity /Crimes contre la Santé
Marie-Odile Bertella Geffroy (ex-Juge, vice-présidente de la Cour de Paris et coordinatrice au Secrétariat de la Santé Publique de Paris)
Binding Treaty on transnationals corporations with respect to Human Rights / Traité contraignant sur les multinationales et le respect des droits de l'homme
William Bourdon (Avocat, Sherpa)
Eco-crimes & Ecocide Conventions / Conventions Eco-crimes et Ecocide
Laurent Neyret (Professeur de Droit. Directeur de publication)
Ecocide as a crime against peace and human security / Crime international d'Ecocide
Valerie Cabanes (Juriste, porte parole de End Ecocide on Earth)
Discussion
Hope for implementation / Espoirs de mise en oeuvre
18h00 CLOSURE: Similarities and differences / Similarités et différences
Vandana Shiva (Navdanya)