Join us – EVERYWHERE
We are joining Earth Hug Day this year to show our appreciation and gratitude to the planet. Earth Hug Day has been going on for several years now – in Germany since 2012 organized by young media specialist Kati and in Austria since 2010, by our austrian coordinator Thomas. This year, on the day when the COP20 in Lima is about to finish, we decided to join forces and make our Earth Hug so big that it can reach the political leaders all the way to Peru and show them how much we care for our home. There are things in life which money can't buy, like a warm hug or being with the ones you love, let's show that's all we need for Christmas!
So  we are happy to announce that we are sending out this year a WORLDWIDE CALL on the 12th of December at 12h local time to:
START

protecting our planet
STOP

consuming
HUG

people to share
From 1 to 12 of December will be held the 20th session of the Conference of the Parties or UN's Climate Change Conference. The hopes are always high, but activists do not expect much from this year's meeting. That is why we want to gather momentum by showing how much we, as citizens and human beings, care for our planet and that the only solution we have is to protect it.
Let's show how much we love our home, let's engage everyone we meet this day – on the streets, in cafe's, shops, trains, etc. – in our common sign of Love – a big hearty HUG! 🙂
What can you do? Join us  register for the event check out our facebook invitation and add your city to our volunteers event database.
If you want to give away flyers on this day feel free to download and print this PDF
Post pics from your action on Facebook and Twitter using the two hashtags #endecocide and #earthhug
Interested?
think about it.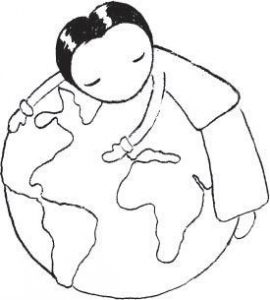 who has supported you all your life without asking for anything in return?
fresh air, clear water, food, stability and unconditional love…
the earth provides. the earth cares. the earth loves!
it's about time we love her back again…
every day – every moment…
and with a huge collective earth hug right around the planet!
when? 12.12.2014 at 12 o'clock (high noon) in your timezone
where? right where you are!
how? it's easy! it's free! it's fun! (see the video at the bottom)
throw yourself on the ground and hug the earth!
run to a tree and hug the earth!
put your arms around each other and hug the earth!
hug the earth ♥ share the love
Freehugs
You don't know what a Free hug flashmob is? Watch this little movie to get some inspiration 🙂
[youtube src="http://youtu.be/P2vjdE0EgIQ"]