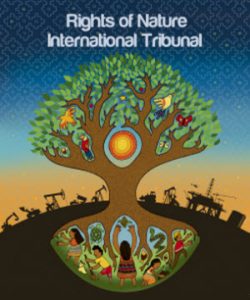 Giving Mother Earth A Voice in Paris –  International Tribunal of the rights of Nature
Paris – 4&5 December  – Maison des Metallos – 94, Rue Jean-Pierre Timbaud, 75011 Paris
Against the backdrop of the UNFCCC climate talks in Paris—highlighting false solutions and failed negotiations—we can do more than just protest. The International Rights of Nature Tribunal stands as true system change — a forum for the world we are creating. Nearly everywhere, current law says nature is mere property to be destroyed for profit. We cannot protect ecosystems without recognizing their rights to "exist, persist, and regenerate their vital natural cycles." Rights of Nature provides the framework for solutions that respect the integrity of the vital ecological processes of the Earth.
This international "People's Tribunal" provides a highly visible vehicle for re-framing and adjudicating prominent environmental and social justice cases within the context of a Rights of Nature-based earth jurisprudence. It gives people from all around the world the opportunity to testify publicly as to the destruction of the Earth — destruction that governments and corporations legalize and encourage. The Tribunal provides a platform for informed legal analysis of diverse cases based on Rights of Nature. With each case, the esteemed panel of Tribunal judges will recommend actions for reparation, mitigation, restoration and prevention of further damages and harm.
Cases to be brought before the tribunal in Paris by  following experts and witnesses:
 4th Morning :Climate Crimes against Nature

Pablo Solon, Bolivia; Nnimmo Bassey, Health of Mother Earth, Nigeria;
Fossil Fuels : Maxime Combes , Attac
Deforestation : Mary Lou Malig, Global Forest Coalition, Philippines;
Trade : Tony Clark (Polaris Institute)
Water Privatization: Maude Barlow, Council of Canadians;
Geo-engineering : Silvia Ribeiro (ETC)
Bio fuels : Pat Mooney (ETC)
Nuclear : Kumi Naidoo (Greenpeace – nuclear) / Roland Desbordes (CRIIRAD)
Biodiversity erosion : Allain Bougrain-Dubourg ( LPO)
4th Afternoon : Crimes against mother earth
Financialization of Nature: Geneviève Azam, Attac France;
REDD+: Ivonne Yanez, Oilwatch, Ecuador.
Agro-food industry and GMOs: Vandana Shiva, Navdanya, India; Ronnie Cummins, Organic Consumers Association USA; Marie-Monique Robin, José Bové, Via Campesina, France; Adelita San Vicente, Semillas De Vida, Mexico.
Defenders of Mother Earth: Indigenous leaders from Amazon; Mining victims of Europe, Contamination, Italy
5th Morning  : Crimes against nature and Ecocides
Fracking: Shannon Biggs, Movement Rights, USA; Kandi Mossett, Fort Berthold, ND, USA; Casey Camp Horinek, Ponca, USA; Khaoula Chikahou.
Mega Dams in Amazon: Gert-Peter Bruch-Planete Amazone; Antonia Melo, Leaders from AmazonWatch; Cacique Raoni,
5th Afternoon : Ecocides
Oils spills – Chevron & Yasuni, Ecuador:   Carlos Larrea, Pablo Fajardo ( chevron victims lawyer); Humberto Piaguaje, Ecuador ; Patricia Gualinga, Sarayaku, Yasunidos, Ecuador.
Ecocide as a Crime at ICC: Valérie Cabanes, End Ecocide on Earth, France
New cases for next tribunal
Tribunal judges in Paris include:
Tom Goldtooth, Indigenous Environmental Network,
Alberto Acosta, former President Ecuador Constitutional Assembly,
Osprey Orielle Lake, Women's Earth and Climate Action Network,
Cormac Cullinan, author WildLaw: A Manifesto for Earth Justice,
Terisa Turner, professor, former UN Energy Specialist, Canada
Felicio Pontes, federal prosecutor, Brazil
Dominique Bourg, philosopher and professor Sustainable Development, Switzerland.
Philippe Desbrosses, author, Phd Environmental sciences and organic farmer, France
Damien Short, Director of the Human Rights Consortium (HRC), UK
Nnimmo Bassey,Health of Mother Earth Foundation, Nigeria
Christophe Bonneuil , Historian, Co-author Evenement Anthropocène and Crime climatique Stop!, Attac, France
Earth Defenders in Paris include:
Linda Sheehan (Earth Law Center)
Ramiro Ávila