Following our conference on Oct 13th in Brussels, we focused in the afternoon of Oct 14th on the instrument of European Citizens' Initiative, by organsising a workshop together with The ECI Campaign. We brought together several past, present and future ECI organisers, to share experiences and discuss ways to improve the direct democracy tool with so much potential.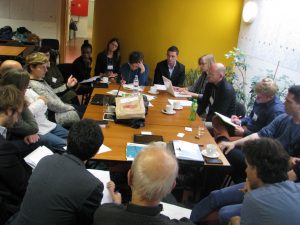 First we had short presentations by different ECI organisers: the already ended ECI organisers Heike Aghte from 30 km/h, Xavier Dutoit from Right2Water, Stanislas Jourdan from Basic Income, Giovanni Melogli from Media Pluralism and our own Lilia Tamamdzhieva from End Ecocide in Europe, Philippe D. Grosjean presenting the ongoing ECI New Deal 4 Europe and Michael Efler talking about rejected and now unofficially ongoing Stop TTIP initiative.
Already during these presentations and what was being said throughout the event, we saw most ECI organisers facing the same problems: the need to campaign both their initative and the ECI itself, the problems of getting real partnerships in local level, etc.
The main part of the workshop was discussions in five groups, that tried to identify specific problems and find solutions to them (longer summary of the group results can be found here):
The group on improving ECI legislation proposed 22 suggestions towards European institutions, including helping ECI organisers with translations, having more transparency in ECI refusal cases, allow ECI organisers to collect e-mail addresses through a non-mandatory click box , allowing ECI organisers pick their own starting date and much more.
Two groups focused specifically on the role of youth. The group discussing youth involvement in organising ECIs brought out that lack of awareness about ECI simply adds up to lack of awarenss about the functioning of EU, and so these things can be tackled together by creating spaces for young people to discuss them. The other group talked about the ways to encourage young people to vote for ECIs and from there is was pointed out that young people are the age group most likely to get involved through social media and online. Both groups suggested lowering the age limit for voting for ECIs from 18 to 16 (like it currently is only in Austria).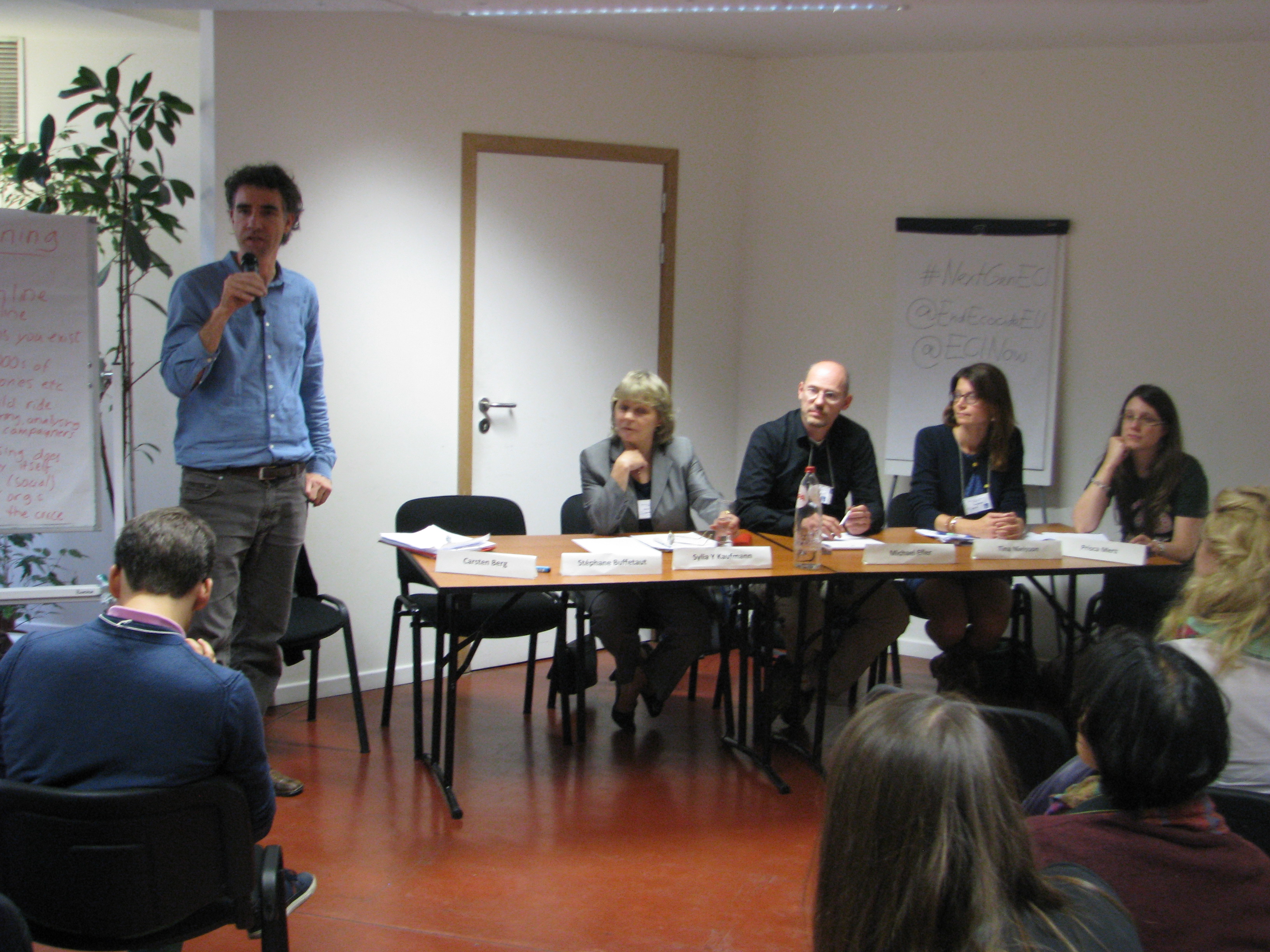 Since End Ecocide in Europe has been one of the few ECIs run completely by volunteers, it was also our chance to share that experience and so one group identified main challenges in volunteer-led ECIs and tried to find some solutions. The group brought out among other things problems keeping motivation while working from different parts of Europe and only meeting online, also the almost impossible task to find funding without having an NGO behind the initiators.
The last group focused on e-campaigning and social media as help in running ECIs and found among other things that offline and online campaigning must go hand in hand and that offline events help to create new connections outside one's usual circle of contacts. Also, some new online tools were presented within the group.
The day ended with a panel discussion with Michael Efler from unofficial ECI Stop TTIP, MEP Sylvia-Yvonne Kaufmann, who is member of the European Parliament Consitutional Affairs Commitee and Tina Nilsson, who is leading the ECI investigation by the European Ombudswoman. Michael Efler called ECI being in crisis, as only 2 new ECIs have been registered this year and the refusal rate of proposed ECI's is currently almost 50%. As he pointed out, the biggest problem with ECI is the ECI itself. Although also many other issues were brought out by the workshop participants, it could be said that there is still belief in this instrument and MEP Sylvia-Yvonne Kaufmann urged citizens to stay together to ask for better ECI regulations and make sure less ECIs get refused.
This activity was made possible due to the support from the European Union's Youth in Action programme. The views expressed in this article are only the organisers' and don't reflect the position of the European Union.